Cadet Terry Velour Robe
Please Note: This is a custom ordered item. We are currently processing and shipping within 10 to 15 business days. Transit times will vary depending upon final delivery zip code
ORDERS PLACED AFTER JULY 31st WILL NEED TO SELECT "CUSTOMER PICK-UP".
ORDERS PLACED AFTER AUGUST 1st WILL NOT BE GUARANTEED COMPLETION FOR THE START OF FOW.
Quantity
minimum quantity: x available in bundles of: x Product ordered in bundles.
Shipping
Product Fulfillment
Core Image Group has a highly developed production and shipping system and we make every effort to ship your order in a fast and effecient manner.
Most apparel orders will be completed within 7-10 working days of placing your order. Orders requiring custom artwork, design proofs are normally sent out within 3 working days. If artwork is not approved within 48 hours of our scheduled print date, overall delivery time may be affected. Delivery times for promotional products vary depending on the size and complexity of the order. Signs and banners generally take 7-10 working days to produce, again depending on the size and complexity of the order. Most completed jobs can be picked up at the location at which you ordered your items, or shipped via FedEx SmartPost or FedEx.
100% cotton terry velour, 3/4 sleeves, two patch pockets at hips,
Self-fabric belt and loops for easy adjustment, Measures 48" long;
12 oz/yd²
Sizing Reference is provided as a guide only. Individual fit may vary depeding upon height and body structure.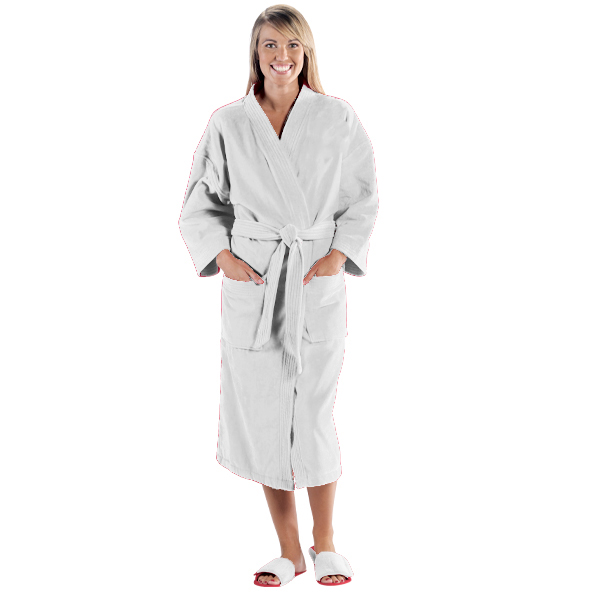 At 48" in length this robe will drape to approximately the mid-calf on a male cadet that stands 6' 2" in height.
On a female cadet at a height of 5' 2", this robe will drape to just above the ankle area.